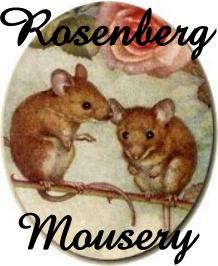 -- All our mice are hand tamed from birth
-- We give particular attention to the temperament and health of our animals

Anyone who owns pet mice is doubtless aware of the joys and rewards they bring. They are undeniably gorgeous creatures who delight in fun and play with people and each other. At Rosenberg Mousery, we specialise in mice as pets, and always produce animals who are incredibly people-friendly.

Rosenberg is a small stud in Brisbane, Queensland, Australia. All of our mice are beloved pets and companions who produce incredibly healthy, strong and extremely personable young. We sell privately and to selected pet stores in the local area.
**SECTIONS UPDATED**
If anyone has ideas on what else they might like to see on our site, then don't hesitate to let us know.

****
---

Page created: 14 March 2000
Last updated: 01 Sep, 2001
Author retains the rights to all original text and photographs within. Reproduction without permission or due credit is not particularly sporting and may be tantamount to stealing. We request that if you wish to use any material herein for your own webpages that you contact the Webmaster, and obtain permission, or a link back to this site from yours, with due credit, would suffice. We will, of course, reciprocate if you wish. Please adhere to this simple courtesy.

This page created by LawPagesInk using Symantec Visual Page

Counter added 5 July 2000